Our Dental Care Staff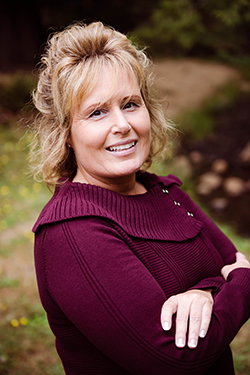 Kim
Hygienist
Kim graduated from Pendleton High School in 1988. Before completing her dental assistant training, she spent time living on the east coast employed as a nanny. She came to work at our office in 1995 as an excellent dental assistant. After eight years, Kim took several years off and completed her dental hygiene degree. She returned to our office in 2007 after passing her dental hygiene boards. Kim brings a great amount of experience, the latest training, and tons of enthusiasm to our office.
When not on the job, Kim loves reading and spending time at her Pine Hollow House. Kim and her husband Frank have a dog named Sara.
Kims favorite food is chocolate chip cookies. Her favorite holiday is Thanksgiving. Kim says, "It's the perfect day with family, food, and not all the work and overblown expectations of Christmas".
---
Linda
Hygienist
Linda graduated from the Dental Hygiene program at Clark College. Linda and her husband Brandon have 4 "furry babies", one rambunctious dog and three cats. She enjoys indoor activities such as painting, sewing, cooking and crafts; she also loves camping, hiking, water sports and taking advantage of the various outdoor activities in the beautiful Pacific Northwest.
---
Chris
Hygienist
Chris, our newest hygienist, brings two decades of dental experience in helping patients achieve their hygiene goals. Outside of work, Chris enjoys being very active in the way of skiing, hiking and training for endurance sports with her two boys.
---
Kristen
EFDA
Kristin graduated in 2009 as an expanded functions dental assistant. We love Kristin and her ability to make patients feel right at home in our office. She is our Cerec design specialist and will take great care in creating patient crowns that are esthetic, functional and built to last.
In her free time, she enjoys crafting, baking, gardening and spending time with her husband and two young boys. Kristin is always smiling and is a great asset to our dental family.
---
Debbie
EFDA
Debbie is the newest member of our dental team. Her sweet and caring personality along with over a decade of assisting experience will ensure a relaxed and enjoyable experience.
Debbie has been a long time Sandy resident and raised her two sons here. In her free time, she enjoys riding quads on the dunes, boating, and crocheting.
---
Megan
Marketing Coordinator
Megan is friendly, welcoming and we love having her as a member of our team. She joined us in March 2008. Megan graduated from Gresham High School in 2002, and Concorde in 2007. At Concorde, she received her dental assistant training and certificate for EFDA and EFODA. Megan is personable and is always enthusiastic about her work. She loves getting to know her patients and enjoys helping them feel at ease
Megan enjoys outdoor activities and hanging out with her friends and family.
---
Kimberly
Receptionist
Kimberly is the newest addition to the front office. Her fun and outgoing personality will likely be greeting you as you come to visit our practice. Kim has been involved in dentistry for several years now.
She is a mother of two and a grandmother of 5. When shes not busy with her growing family, she enjoys gardening, boating, golfing and baking.
---
Anna
Front Desk
Anna is a native Oregonian. She and her husband Jake are raising 3 amazing children. Not only are Anna and Jake great parents, but pet lovers too! They have 2 dogs; Tank and Chopper and a cat named Meow-Meow. This sweet family of 8 enjoys travailing, camping trips, and watching sports.
---
Emily
Financial Coordinator
With more than 20 years of experience in the dental field, Emily joined BeaverBrooke Dental in March of 2018 as our financial representative.  In 2013, Emily retired from dentistry to fulfill a lifelong passion of owning her own coffee shop.  After being diagnosed with breast cancer in 2015 many things changed in her life.  She felt it best for her and her family to come back to dentistry.
Emily is a native to the pacific northwest where she is raising her children and furbabies.
She enjoys the beach and taking day-trips to explore.  In her spare time, she devotes time to volunteering with different charities in the Portland area.